NA MAIRA CEILTI  i s a documentary film about the famous Irish sea captain & pirate Grace O'Malley.

 It is a project of the Minnesota Alliance for Geographic Education (MAGE), produced in cooperation with Minnesota's Lakeland PBS and with funding to MAGE from the National Geographic Education Foundation. and the Minnesota Irish Fair and Irish Legacy Fund.

      During the Elizabethan era, the British expanded their empire by invading and conquering Ireland. 

Many attempts at conquest were fended off by Irish clan leaders, including the O'Malleys, O'Flahertys, and Burkes. 

The O'Malley clan, led by seafaring merchant and trader Dubdara O'Malley, 

protected the lands in Northwest Ireland with a stronghold at Clew Bay.  

     Dubdara raised his daughter, Grace, to be a trader, map maker and sea captain. 

As an adult, she took part in commanding his fleet, and eventually inherited it, 

sailing regularly to trade in Portugal, the Mediterranean, and even along the Barbary Coast of Africa .

 Grace was fluent in many languages, and her knowledge of geography

 and skill in navigation won her the utmost respect of her crew. 

      When the British persisted in their efforts to subdue the Irish of the western coast, Grace and her alliance of clans 

took up piracy against British ships, using plundered trade goods to fund the fight against the British themselves. 

She became a legendin her own time, commanding her fleet and encouraging Irish resistance well into her 7th decade of life. 

This website was designed to accompany the upcoming documentary film inspired by tales of Grace's life on the Irish seas!  

Stay tuned for its premier on the "Through the Lens" Documentary series on Lakeland PBS.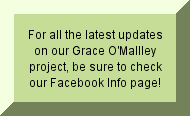 Lyrica Celtica, medieval Irish poem 

 read by Sarah Jane Einerson at the beginning of NA MAIRA CEILTI

Be more surprising, with PBS! 

 The film NA MAIRA CEILTI is brought to you

 courtesy of the "Through the Lens" filmmaking internship and Documentary series at northern Minnesota's Lakeland Public Television  station 

A swashbuckling documentary

debuting soon on Minnesota's

Lakeland Public Television!


Prelude to Pirates!  

Check out this preview trailer for 

Na Maira Ceilti, premiering soon!